Welcome to Grace Church
Grace is the unmerited and freely given love of God which has been made known to us in Jesus Christ. We practice a Benedictine spirit of welcoming all as Christ and believe God has called us together as a people to embody the Gospel in the world regardless of our gender, ethnicity, sexual orientation, socio-economic status, level of education, disability or any other outward appearances. For in Christ, "there is no Jew or Greek, no slave or free, no male and female" - all are one! Grace Church is a
welcoming and affirming
congregation in the
Episcopal Diocese of Maryland
.
Our regular worship services are:
Holy Eucharist (Communion) Service - Sundays at 8:00AM (Spoken) and 10:00AM (with music)
Grace also has opportunities for worship on holy days of obligation. Check our
weekly calendar
for the worship schedule.
Thanksgiving Day at Grace Church
Grace is celebrating Thanksgiving Day this year with a new spirit! Join us at 10 am for Holy Eucharist followed by a Community Thanksgiving Dinner from 12 - 2 pm. Everyone is welcome! Grace will provide the turkey and we ask you bring something to share. Food left over will be packaged as individual dinners and distributed to those in Brunswick who are working on Thanksgiving Day. Join us in giving thanks and giving back to the Brunswick community!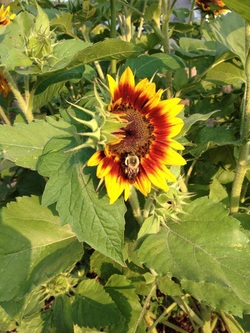 Grace Church is the home of the
Brunswick Food Forest and Farmers Market
, a community effort to bring sustainable, local, and affordable food to Brunswick/Lovettsville communities. The first micro-farm was started behind our rectory off Mooseheart Drive. We are seeking to expand our farming efforts by partnering with other groups in the Brunswick/Lovettsville area.
We have started planning for the 2015 growing season. Interested in the mission of bringing food to our community? Contact our market manager,
Jonathan Spurrell
.
---