"Jesus then asked him, 'What is your name?' He said, 'Legion'; for many demons had entered him."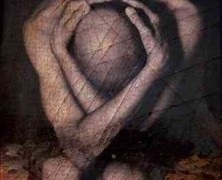 Have you ever had someone steal your identity? Now we normally think of this as the "somebody stole my social security card number and took out credit cards in my name" or "somebody got my debit card and drained my bank account" kind of a thing. But if we crack open the definition beyond financial transactions to include such things as email spoofing where your email address is compromised and all your friends get a Viagra ad with your name on it, or your Facebook or Twitter accounts get hacked and all kinds of weird stuff shows up on your feed … now how many of you can say you've been the victim of identity theft? Deacon Tom had this happen with his email account. I got an email that he was in Barcelona and got rolled for his money and needed me to wire him some funds. Now if they'd have said Edinboro Scotland … I might have taken the bait!

The first time I ever had my identity stolen was when my debit card was compromised. I downloaded my account activity into Quicken and lo and behold … my account had been drained … in … Barcelona! Hey … wait a minute! No worries … it was a coincidence. What I remember, though, is how vulnerable and violated I felt. What a trespass of boundaries and by someone I did not know!! All of the strategies I had used to keep my card safe had failed (it was, very likely, an inside job through the vast network of banking that now handles our transactions). The bank was very understanding and they refunded the money and handled any overdrafts … but it was still a hassle!

Identity theft is something we can all relate to at some level. Some outside entity attempts to rob us of our name, our reputation, and seeks to exploit it for their own gain. This is exactly what has happened to the demon possessed man in our story today.

This story appears in all three synoptic Gospels (Matthew, Mark & Luke), each telling with some slightly differing details. Mark tells us the man cut himself with stones. Matthew, who always like to double things, does so with his rendition – if one demoniac is good, two must be better, right? If we are honest with ourselves, this whole idea of demon possession is something we'd rather not talk about. When we think of demon possession, we often go down the road of Hollywood movies: The Exorcist, The Rite, or something along those lines. I will tell you that this kind of extreme demonic possession does exist … but it is very rare. So to connect us with this story in a more helpful way, I want to take off the Hollywood frame and let's think of it as identity theft.

Why identity theft? Well, because Jesus specifically asks the man's name but the response doesn't come from the man, it comes from one of the demons: "Legion." There is something terribly tragic going on here. This man has lost his name … his identity has been stolen. He isn't identified as Joseph, or Elijah, or Simon – what possesses him identifies him. He is known by what enslaves him. I want you to consider two things. First, evil has two aims: forget God and forget who you are. Forget God and forget who you are … and not necessarily in that order. If the devil can get you to forget who you are, you will eventually forget God too because you will forget in whose image you are made. If you forget God first, you will forget the greater meaning and purpose of who you are and who you were created to be. Second, demons are not necessarily little red guys with pitchforks – they are anything which claims your soul.

So this Gerasene man has forgotten who he is and only his demons can answer for him. "Legion" they say. This isn't a name it is a military term referring to a unit of Roman soldiers – 6,000 soldiers to be exact. This guy wasn't just demon possessed – he was occupied! And so are we. We too are "Legion" … for our demons are many. We all have demons that plague us. It's easy to point to something obvious like addictions and know they try to claim our soul. Whether that is alcohol, drugs, gambling, sex, tobacco, eating disorders … all attempt to claim us and destroy our true identity as beloved sons and daughters of God. They might even cause people to label us so that we become known by our demons: drunk, junkie, slut, black sheep of the family. These are the obvious examples, but demons are often far more subtle: they can even be things that look really good like being professionally successful, having wealth or social status. When we obsess on these things and, in essence, make them an idol, we forget God … and then our identity as children of God is stolen.

Now in our story, we get to that place where the demons beg Jesus not to go back to the abyss and ask to go into a herd of pigs. Admittedly this sounds weird and some of us are really feeling sorry for the pigs; however, for a first century Jewish audience, this is the comic relief part of the story and full of irony. The man is unclean (remember, he's Gentile) and is occupied by unclean spirits who beg to go into the unclean animals (pigs) and then rush into the water … which is a means of cleansing! It's like a giant porcine mikvah bath. What Jesus is doing is naming and claiming the authority over that which had stolen the identity of this man. Then the swineherders go out and tell the townsfolk what happened and they return to find the formerly demon possessed man clothed and in his right mind.

And this scares them to death! Why? We might think they'd be overjoyed at this. But think about it. This guy living in the tombs and howling at the moon allowed the community to ignore their own demons, their own identity thieves. They could point to this guy, I mean he was the poster child for the demonic, and say to themselves, "Well, I may have my issues, but I'm at least as not as bad as he is!" We are creatures of rationalization, aren't we? And what happens when the poster child gets well? Oh no! Now I have to deal with my own stuff! Well who wants to do that? The community doesn't want any part of this at all and they send Jesus away.

Understandably, the man wants to go with Jesus. Why not? Get a fresh start somewhere far away from this one horse town where people still want to remember him as he used to be. But no, Jesus tells him he needs to go back to the town and back to his people and tell them what God has done for him. Why? Because he has gospel to tell – he has good news. Anyone who has worked a 12-step program knows this! Step 12 is share the news that healing is possible – share your good news with others who suffer. But be prepared: not everyone wants to hear it. For some, the known demonic identity thieves are less frightening than the unknown ones of living a whole and healed life. Some folks don't want to get well. It's tragic but true. However, and this is a big HOWEVER, there are people who do want to be healed! And they need you to tell them what God has done for YOU. This is what we are being asked to do: go and tell.

We come here as "Legion" for we all have powers which try to rob us of our identity as beloved daughters and sons of God. Each of us comes back to this place, to this community, each week to face our demons and ask for God to cast them out. And as we walk this healing journey, miracles happen and we find ourselves clothed in Christ and in our right minds. And Christ tells us to go out and share our story with others who desperately want to hear that they too can be healed. This is the power of what God has done for you and me … now go and tell.