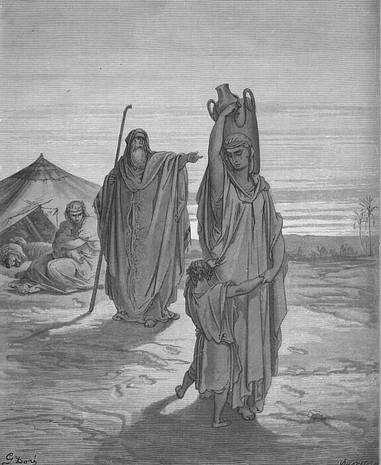 There are always two sermons a preacher has every Sunday: one they write and the other they preach. Sometimes they are the same … sometimes not. Today is one of the "not" days. I had a sermon all ready for this morning but at 9:30 last night, I ran across a prayer from Martha Spong and everything changed. She posted the prayer with an image from Gustave Dore – "The Expulsion of Ishmael and His Mother." This woodcut image grabbed me and I knew that everything I had planned on preaching would change. Not that I was crazy about this idea – rewriting a sermon at 9:30 on a Saturday night isn't what I'd planned on. I went to bed, it woke me up at 2:00 am … and this is what came up. You see this haunting image of Hagar and Ishmael being cast out is an ugly story of jealousy and abuse inflicted by two people who claimed to be following God: rejection from an unexpected source.

To understand the story of Hagar and Ishmael's expulsion, we need to go back a bit in the Genesis story. God begins the story of Abram and Sarai by making a promise: a promise of land and progeny. But in the course of the narrative, the promise of children (at least by Sarai) doesn't materialize. It is believed Sarai is too old to have children, so she hatches a plan for Abram to take her slave girl Hagar as a second wife and have children by her. This was not uncommon in tribal culture but there is the discomfort of realizing Hagar really had no agency in this decision. She was a slave and defying her mistress' order would have been unthinkable. So Hagar becomes pregnant by Abram. The narrative tells us that Sarai complains to Abram that after Hagar conceives that she looks down on Sarai. Abram tells Sarai to do with her whatever she wants – and Sarai "dealt harshly" with Hagar. We don't know exactly what that means, but it was bad enough that Hagar runs away into the wilderness.

In the wilderness, an angel meets Hagar and tells her to return to Sarai. Hagar is given a promise that God has heard her plight and will greatly multiply the children who will be born to her son and make of them a great nation. In that encounter, her son is given the name Ishmael and Hagar calls the name of God "El-roi" which means the "God who sees me." The God who sees me: sees me as a person and not as any of the labels like foreigner or slave which might have defined me. Hagar is known and seen by God and she receives a promise that God would bless her child. She returns and gives birth to Ishmael.

Some 13 years later, Abram meets God again who repeats his promise of land and progeny. Abram is given the name Abraham, "father of a multitude of nations" and Sarai becomes Sarah, meaning "princess." Sarah becomes pregnant by Abraham and bears him a son, Isaac. But now we hear that once Isaac was weaned, jealousy rears its ugly head. By patrimony tradition, Ishmael as oldest son would normally carry on the family name and receive the double-portion of inheritance. Sarah wanted no rivals for her son! So she tells Abraham to send Hagar and Ishmael away – she cannot even bring herself to call Hagar or Ishmael by name: "Cast out this slave woman with her son; for the son of this slave woman shall not inherit along with my son Isaac."

Abraham is troubled but receives an assurance from God that Ishmael and Hagar would be provided for and he follows Sarah's orders and drives Hagar and Ishmael out into the wilderness with a skin of water and some bread. Dore's portrayal of this in his wood cut is heartbreaking: Sarah seated in the background with the toddler Isaac, looking down and frowning, Abraham standing with a forlorn look on his face and pointing away from camp, and Hagar and Ishmael in the foreground a tear running down Hagar's cheek and Ishmael's face buried in his mother's skirts.

And in spite of all the assurances we hear as the readers of this story, what must Hagar have been thinking? She followed everything her owners told her to do. She dutifully produced a son for the patriarch of the tribe. And now she is thrown out? Rejected by these people who believe they are following God? This story is a disturbing reminder that following God does not make people immune from pettiness, jealousy and even abusing others. As Paul's letter to the Romans speaks of our dying to sin, and by that he means the power of Sin to enslave us and forever destroy our souls, it doesn't mean we will not fall into sinful actions even as we seek to follow God. Abraham and Sarah are not perfect people and Sarah's jealousy and her desires to protect her son's inheritance rights have tragic implications for Hagar and Ishmael.

Jesus speaks to this in his mission discourse in the Gospel. This is no pep talk he is giving to the disciples – it is a reality check. He warns them that by following his teachings, they will be opposed and rejected. That doesn't exactly sound like "good news," does it? Jesus warns them that he has already been called Beelzebub by those who oppose his message – and if that's what they call him, how much more will his disciples be maligned. He tells them to expect opposition – this is what following the counter-cultural message of his teachings will bring. And they can expect the opposition to come from unexpected places – even from within their own households. Rejected by their fathers and mothers – and cast out just like Hagar.

When we follow the teaching of Jesus Christ, we will run into opposition and rejection – and sometimes it will be at the hands of those closest to us and even those who claim to follow God. The teachings of non-violence, economic justice, radical hospitality and equality still threaten the culture of violence in which we live. Make no mistake – there are many who profit and gain power from violence, income inequality and perpetuation of poverty, exclusion and inequality. Following the teachings of Jesus as Christians will bring us into conflict with others – even those who claim they are following God while still upholding the social status quo which opposes the Gospel. Someone once asked the question, "If you were put on trial for being a Christian, would there be enough evidence to convict you?" If you have not experienced conflict with someone over following the Gospel, it's likely you'd be acquitted.

We are not called as Christians to uphold the values of a culture of violence but to respect the dignity of every human being. When we really follow Christ it is risky business. We risk rejection from places where we would least expect it. But we are, like Hagar and the disciples, promised by God that we are known, seen, and will not be abandoned. El-roi, the God who sees me and sees you, has called us into the hard work of transforming the world. And the God who sees me and you will not leave us to face our perils alone.