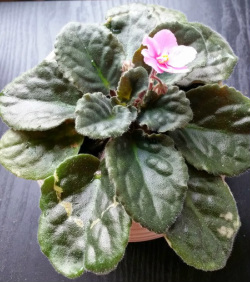 My mom started growing African violets when I was a kid. We had a number of them in her garden window in California. I now have several in a south facing window in our home in a garden tray my husband gave me for Christmas one year. They bloom constantly - even through the winter which brings color to our home in an otherwise colorless time. This little African violet came to me last December. It had been left behind by its previous owner and wasn't in the best shape. The leaves were small and discolored and there were no signs of any blooms on it at all. It would be easy to blame the condition of this violet on the prior owner's neglect, but that would not be true. The prior owner watered and fed it and I have a "brown thumb" – I have even killed cactus! I mean, who kills cactus? Well … I do! It wasn't neglect, it was isolation. You see, these are "social" plants. They flourish when grouped together and wither when isolated from others. This week, on the same day the Baltimore riots started, this little violet bloomed. This made me I think about what this little plant and the readings this week say about Christian community.

Jesus said to his disciples, "Abide in me." He didn't say, "Abide with me" or "Abide next to me" or "Abide somewhere over there at arm's length." No … he said "abide in me." In so doing he makes it clear that to be a Christian means being incorporated into a mystical connection to him and with each other. It means being connected to people not like you and me – even people we may not like very much, people we don't understand and people whose world view is very different from ours. It reminds us that this week's riots on the heels of Freddie Gray's death while in the custody of the Baltimore City Police affected us. Maybe the riots did not directly affect us but because we abide in Christ with our sisters and brothers in West Baltimore, the riots affected us. Perhaps they spurred some sense of outrage over how a man whose only apparent "crime" was to make eye contact with a police officer could end up dead. Maybe the riots made you angry at the rioters because you don't understand why they would trash their own neighborhood. They affected me because I served a church in West Baltimore and I count the people of St. Luke's as my friends. They were caught up in it and I was concerned for their safety. They have deep seeded problems in their neighborhood – neglected schools, drugs and addiction, crime, lack of decent paying jobs, lack of access to fresh food, and a legacy of segregation. There is a lot of frustration and it reached an explosive point this week. I cannot excuse what happened, but I can understand why it happened. As Martin Luther King once said, "A riot is the language of the unheard." These sisters and brothers who abide in Christ with us have been unheard for years … and we have been complicit in ignoring the problems. When I saw people who consider themselves good Christians posting comments on Facebook calling the rioters "thugs" and "criminals", the words of John came roaring back to me: "Those who say, 'I love God,' and hate their brothers or sisters, are liars; for those who do not love a brother or sister whom they have seen, cannot love God whom they have not seen." Posting things on social media which label and call names isn't part of the solution – and I can assure you many of our sisters and brothers in West Baltimore were as angry at the rioters and looters as we are.

It has been relatively safe for us to sit back and observe the riots and violence done to our sisters and brothers in Baltimore from a distance and it is hard to approach the enormity of the problems they face … it can lead us to be paralyzed where we are and do nothing. I confess I am overwhelmed by it. I asked some friends on Facebook message what we can do besides pray. They told me they don't even know yet, but prayer is a good place to start. I think also we can take a hint from today's story of Phillip and the Ethiopian eunuch. Here is a story of Phillip encountering someone vastly different from himself. Think about it … we are talking about a story of the baptism of a gender queer African! He's different from Phillip on at least three points: he's African not Jewish, he's a eunuch, and he's in a different socio-economic status as a high court official. Phillip is led by the Spirit to go down to Gaza from Jerusalem when he is guided to approach the chariot. The Ethiopian eunuch is apparently headed the same direction. He may share the Jewish faith as he is reading from the prophet Isaiah and while we don't know for certain, he may have been at the temple while in Jerusalem. Phillip is guided to approach the chariot and, before he engages the eunuch, he hears him reading. This is crucial because he now has a visual confirmation this person is different and, upon hearing his voice, Phillip would have known he was gender queer – a grown man with a high pitched voice would have pegged him as a eunuch immediately. But this didn't stop Phillip from reaching across what obviously divided them to engage the eunuch. He accepts the invitation to get into the chariot and takes the opportunity to begin a relationship with this man by first listening to him! They discuss the Isaiah passage and Phillip shares his faith that Jesus is the fulfillment of the prophetic text. When they come upon some water, the eunuch asks the million dollar question: "What is to prevent me from being baptized?" It's a profound question because of his gender queer status. You see, as a eunuch, even if he were a devout Jew, he would have been only allowed into the outermost Court of the Gentiles in the temple compound. He would have known exclusion based on his gender queer status. While it brought him the privilege of working in the queen's court, it also came with a burden. Phillip doesn't let any of that get in the way – they go down into the water together. The answer to his question isn't, "well, baptism is for everyone except …" This answer is "Nothing … absolutely nothing prevents you from being baptized." Nothing prevents you or anyone else from abiding in Christ … and he came up out of the water rejoicing!

Phillip followed the Spirit's call to reach across the divide of race, gender identity, and socio-economic strata to engage someone very different from him. Engaging is listening … not apologizing or defending your view, but listening first and remembering you abide in Christ with these sisters and brothers whose lives are very different – you are part of their community and we are part of theirs. Like this little African violet, we flourish when we are in community – and not just with people who look like us and live in our same zip code. We are called into deeper communion with Christ and each other when we enter into deep and meaningful connection with others who are different and who challenge us.

This morning, we have been asked to step outside our houses of worship for a moment of silence and prayer for our sisters and brothers in Baltimore. As things progress over the next few days, weeks and months, other opportunities to engage will emerge – but today we can begin with prayer … and we can begin to be like Phillip and reach across that which divides us to be a community who more fully abides in Christ.