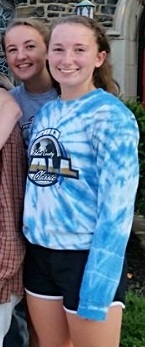 About 2 years ago my family and I came to Grace Church for the very first time. At our other church I was good friends with the people involved with the youth but not anyone else. Everyone we met that day was so welcoming and took me and my family in like we were already part of their family. I will never forget how the youth that were already here included my sister Kirsty and I in everything from the first day we came. At first there we only a few of us in the youth but in the past two years it has grown dramatically and I'm so happy that I could be a part of it. For me, it's not only the youth that make Grace Church as great as it is, its everyone that has been a part of it for a very long time that really makes it feel like a family. Everyone can be a part of something in the Church. In today's society people are very quick to judge people they have never met which sadly I was afraid of when we came to Grace for the first time. As soon as we walked in everyone was so friendly and I didn't feel uncomfortable at all. The environment is always very happy and safe whether it's very serious or joking around, everyone speaks their mind while others listen with caring hearts. I cannot think of a time where I was ever uncomfortable sharing things with anyone in the church. I am so happy to be a part of this amazing place and to know everyone in it. Thank you to everyone that made me and my family welcome here.
--
Kyla Thompson, Youth Group, Mission Team Member & Acolyte
The Vestry and Stewardship Commission ask for your prayers and pledge commitment to the mission and ministry of Grace Church for 2015. As of November 23, 2014 ...
31 families and individuals have pledged thus far

14 pledge commitments increased from the prior year

8 new pledge commitments have been received

48% of the parish has pledged $83,880 to help meet the need for $165,000 for parish ministries.

Our annual giving campaign ended last week; however, we accept pledges throughout the year. If you wish to make a pledge, please fill out a pledge form and mail it in to Grace Church to the attention of Senior Warden Al Horton. Thank you to all who have committed their treasure, time and talent to the ministries of Grace Church!