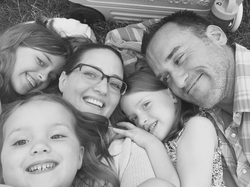 Good morning. For those of you who don't know me, my name is Matt Dehler and I have been a member here at Grace for three years. I joined this church along with my wife, Kristine, and my three daughters, Kennedy, Emory, and Quincy. I would like to say we found Grace, but the truth is Grace found us.


I was raised a good, New York Irish Catholic- the kind that attends 12 years of Catholic School. Kris was raised non practicing Methodist. When we met, neither of us was attending a church. I will always value the education I received in the Catholic Church, but as the years passed, I found that I disagreed with my church on a lot of topics.

We spent several years looking for a church that lined up with our beliefs. Once I became a father, I felt even more compelled to find the right place. We tried many Protestant and non-denominational churches. We felt that science, diversity, and social justice were more important to us than ever finding a congregation. One day a friend suggested the Episcopal Church could be the answer for us. I knew something of this church, the offspring of the Church of England. Henry the VIII breaking away from Rome? Oh yeah- I always enjoyed that story in European history. I remember my friend's words that really resonated with me, "You don't have to check your brain at the door." Shortly after that conversation, I found a card in my mailbox. It was the beginning of the Christmas season, and the card was an invitation to Grace Church. It suggested I might be interested in "more than just flying reindeer" this year.

When we came to Grace that next Sunday, we were impressed. What we found was a beautiful building that reminded me of the stained glass and tradition of my youth. I remember seeing female altar servers and, what's this???.....a female priest??!! I thought to myself, "that's what I'm talkin' about!" As I listened to that first sermon of Anjel's, I knew this was the right place for us. I knew that here we accept all of God's people for who they are. This place seemed to be devoid of all the racism, xenophobia, homophobia and sexism that we experience so often in our world. I'm glad we didn't give up. I'm glad we kept looking. I'm glad we found Grace ... or Grace found us!

The Dehler Family
The Vestry and Stewardship Team ask for your prayers and pledge commitment to the mission and ministry of Grace Church for 2016.
As of October 25, 2015 ...

7 families and individuals have pledged thus far

2 pledge commitments increased from the prior year

11% of the parish has pledged $31,400 to help meet the need for $165,000 for parish ministries

Please keep the ministries of Grace Church in your prayers.