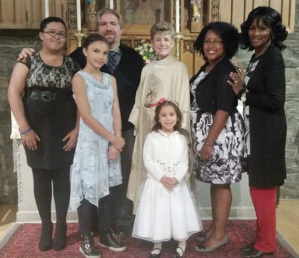 "May God give you grace never to sell yourself short, grace to risk something big for something good, grace to remember that the world is now too dangerous for anything but truth and too small for anything but love."

I heard this blessing at my first service at Grace and knew I found my church home. But it wasn't my first experience at Grace Episcopal. It happened to be the final piece I needed to know I was in a safe and loving church family.

When the girls and I lived in Brunswick, we went through a series of churches before we settled on one in town. It was through that church that I heard that Grace was offering the Monasteries of the Heart series. The class intrigued me and I signed up. It set in motion a year long introduction of the people and the ways of Grace Episcopal. I fell in love with the church but had massive guilt. I was already attending another church in town. Can you leave a church with "it's not you it's me"?

We left Brunswick and at this point Jeb became a part of our family. We went to a church near us and it wasn't a good fit. We kept trying with other churches nearby until I gave up, convinced there wasn't a church out there that would love us for who we are and to hear about God in a loving and real way. It was then I heard about the Monasteries group starting again and we were invited to Grace for a Sunday service. I had doubt after the string of rejection from other churches which made me feel that neither me or my family could be a part of their exclusive group. Exclusive in race, family type, even who we were as Christians. We as a family were looking for a church of inclusion. Where we are embraced for who we are and where we are in our lives. But our first Sunday at Grace was a resounding yes for all of us. We found our church home and in Pastor Anjel we found a pastor who embraced our diversity.

Speaking of diversity, we appreciated the openness of Pastor Anjel and Grace to have the conversation about privilege and what does privilege looks like. When I saw in the church announcement to discuss privilege in light of the events in Ferguson and Baltimore, marriage equality, and seemingly systemic police brutality, I asked Jeb if he wouldn't mind the family attending and he was immediately said yes. We've had enough conversations at home as a couple, as parents of bi-racial children, and presenting ourselves from individual views that we had a vested interest to hear how our new church family viewed these issues.

At the beginning of the exercise, Pastor Anjel lined us in a straight line, saying in God's eyes, this is how He sees every one of us: equal. I'm thankful Pastor Anjel created the safe space to bring understanding. A thought that cropped up to me during the meeting that I was unwilling to share at the time is this is more than taking care of those with less privilege. Those with privilege experience hurt and discrimination on issues such as character or sometimes, for no reason at all. And they deserve the same level of understanding and compassion. To be broader, privilege exercise is about looking around where we have silos as humans and knocking down each wall with the compassion and equality of Christ. As we began the exercise, we are all on the same page when it comes to Jesus and at the end of the day, privileged or not, that's all that matters.

The following weeks the discussion of baptism came up for the girls. I was enthusiastic but had a smidgen of doubt as the previous churches we attended either promised baptism and it didn't happen or was flat out told no. But Pastor Anjel made the process one of ease and joyous anticipation and today I'm proud that the girls are being baptized by her. As a family when we talk about church, the first thing we say is how much we love our church and I'm so grateful we have a church and a church family to call home.

Felicia Watkins
The Vestry and Stewardship Team ask for your prayers and pledge commitment to the mission and ministry of Grace Church for 2016.
As of November 1st ...

15 families and individuals have pledged thus far
3 new pledge commitments have been received
7 pledge commitments increased from the prior year

13% of the parish has pledged $60,846 to help meet the need for $165,000 for parish ministries
Please keep the ministries of Grace Church in your prayers.