The Brunswick Food Forest now has its own web site! Visit brunswickfoodforest.org for the latest news on what's happening and how to get involved!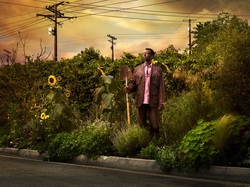 "What in the world is a food forest?"
It's a community response to living in a food desert, or as
Gangster Gardener Ron Finley
from South Central Los Angeles calls it, a "food prison."
In December 2013, the only grocery store serving Brunswick closed its doors. The people in the communities of Brunswick, Knoxville, and Lovettsville, VA were immediately and negatively impacted.
---
People who have automobiles in our communities are now
forced to drive a minimum of 24 miles round trip
to buy groceries. While Dollar General has expanded their offerings with canned goods, milk and eggs, there is a lack of fresh produce available to our residents. For those in our community who do not have cars, this is devastating! People who cannot get to the store are forced to do without or solely eat foods found at the local convenience stores which are not healthy.
Waiting for another corporate entity to come in and rescue us is not the answer ... stealing back our food supply is!
Grace Church has been blessed with land surrounding the church and a huge backyard behind the rectory house. We have offered this space to start a "food forest" in our desert. We are beginning the process of growing food which will be offered for sale at competitive prices in our community. We are partnering with Michael Dickson, local organic gardener and owner of
Seeds of Life Nurseries
, to plant this garden and get the market started.
But we need your help! This project is bigger than any one individual, faith community, or business can accomplish ... but together we can make a difference.
What we need

First,

we need your prayers for this project

. No matter what faith tradition you profess, please pray for this project and all who will be called to serve and be served by it. Your good juju and loving prayers make a difference!

Second,

we need willing hands, hearts and minds to come together and work to make this happen

. Do you like to garden? Would you be willing to help sell the produce? There's plenty to do and if you have a passion for this "ecolution", let us know by

signing up here

.

Third,

we need money

. While we are receiving in kind donations, we will need to purchase supplies and tools to make things happen. These donations will go directly to the food forest project, but will be made to Grace Church so your donations are tax deductible to the extent allowed by law. Click the donation buttons below to help with the garden!

---