Children's Formation at Grace
At Grace, we understand children are beloved and full members of the Kingdom of God. Children are always welcome in our worship services and we have a special place for them up close to the action! The Pray Ground is our space for parents and younger children to connect with the worship at Grace Church.
Children's Church
Grace has a special formation time for our younger children. Children's Church takes place on 1st and 3rd Sundays at 9:45 am and offers a Service of the Word with lesson and activities geared to our younger members (pre-school - 5th grade). Children join their parents in the main worship service in time for Holy Communion. Children's Church is held in the classroom in the lower level of Grace Church (enter by the 2nd Avenue entrance).
Welcome to the Pray Ground!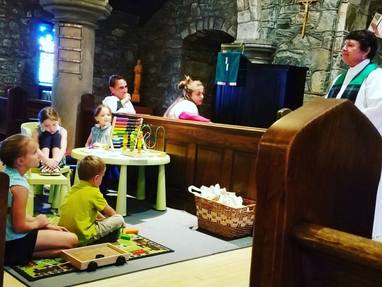 We have a special space for our younger friends at Grace. The Pray Ground is right in front on the left side of the church as you come in! The space is filled with quiet toys, crayons and coloring sheets so that our younger friends can see what's going on, be close to bathrooms (the door leading to the bathrooms is right next to the pulpit), and where parents can set close by to be with their children.

At Grace, we believe having our children present and participating in the Eucharist is crucial to their formation as Christians. You would not exclude your children from the family dinner table, why exclude them from God's table? We are family at Grace Church and all are welcome all the time.
---