Our Staff
The Reverend Spencer Hatcher
is joining Grace Church on November 16, 2017 as our new Priest-in-Charge.
Spencer+
is currently serving as
Associate Rector and Director of Formation
at
Epiphany Episcopal Church in Baltimore, Maryland
. She was ordained in the Diocese of Maryland in September 2016 following graduation from
Church Divinity School of the Pacific
in Berkeley, California. While in the Diocese of California, she served her Diaconate ministry at St. Stevens in Orinda, and before that, as Interim Youth and Family Minister at Trinity Episcopal in Menlo Park.
Spencer+
currently also serves as the
Camp Director
for the Diocese of Maryland at
Claggett Center
.
Spencer+
is a graduate of High Point University in North Carolina. She worked as a special education teacher before moving to California and entering seminary in 2013. She grew up in Washington County, Maryland and considers Hagerstown to be her home town. She came of age and was confirmed in the historic
St. Mark's Episcopal Church-Lappans
in Boonsboro.
Eric Seebach
is Grace's Organist. Eric has been working in churches as an organist since his teens and comes to us after 17 years as the organist at St. Luke's Episcopal in Brownsville MD. Eric works in IT for Accenture and has two children.
Charlie Cizek
is Grace's Choirmaster. Charlie began his ministry in the choir at Grace Church in Advent 2016 and has quickly distinguished himself as a gifted choral musician. He has a bachelor's degree in Music and has taught at the Lucy School in Frederick. He currently works at the headquarters of Music & Arts supporting the sales of their various locations nationwide and sports a most awesome pompadour.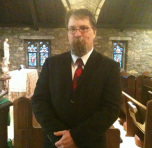 Art Reid
is our Sexton (that's a fancy term for the guy who has every key to every lock and keeps the place running). When not photographing trains or bird watching, he maintains the facilities of Grace Church. He also has taken many beautiful photos of Grace which are found both on this site and on our
Facebook page
. You'll find Art on Twitter at
@Art_Reid
... and he has an impressive following!
---
Grace's Lay Ministry Contacts
Ministry

Acolytes
Altar Guild
Blue Ridge Benedictine Community
Brunswick Food Forest
Brunswick Farmers Market
Building & Grounds
Children's Church
Choir
Eat, Talk, Pray: Youth, Family & Friends
Endowment Team
Greeters
Ushers
Hospitality
Lay Eucharistic Visitors
Lectors
Liturgy Planning Team
Outreach
St. Luke's Guild (Arts ministry)
Vestry

Contact

Kathleen Smith-Jones
Stephanie Slocum-Schaffer
Kathleen & Teri Smith-Jones
Steve Cendrowski
Karin Tome
Charlie Harris
Ruth Bushnell
Charlie Cizek
Kathy Brown
Nancy Hughes
Stacey Cendrowski
Steve Wilner
​Kathy Brown
Kathleen & Teri Smith-Jones
Michael Younkins
Spencer Hatcher+ & David Gunning, Jr.
Shirley Shores
Ruth Bushnell
Charlie Harris
Grace Church's Vestry

Senior Warden - Charlie Harris
Junior Warden - Teri Smith-Jones
Registrar - Rebecca Ubert
Treasurer - Catherine Thompson
Asst. Treasurer - Shirley Shores
Mike Hasty
​Felicia Watkins
​Stacey Cendrowski
Kathy Brown