Funerals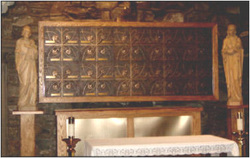 When a Christian dies, it is most appropriate that they be buried from the Church. The promise of the resurrection to new life in Jesus Christ begins in this life and is fully realized when we enter the larger life in God.
The Burial Office is a beautiful service which recognizes the very human grief we share at the loss of our loved one, but also proclaims the great hope of the resurrection given in Christ our Lord.
The Episcopal Church allows for both whole body burial or cremation.
Grace Episcopal has a columbarium (pictured above) which is a place where the ashes of our loved ones have a final resting place. The Chapel of the Resurrection at the west end of Grace is where our columbarium is located. Space in the columbarium is open to all people of goodwill. Contact the priest for more information.
---