Holy Baptism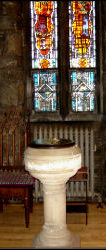 Baptism is the sacrament of initiation into the Body of Christ. The Episcopal Church baptizes infants, children and adults into this new life of grace in the risen Christ.
Preparation for baptism
differs depending upon the age of the person seeking the sacrament. If the candidate is an infant or child, it is important for the parents to meet with the priest to discuss the sacrament and the promises they will make to raise their child in the Christian faith and life. If the candidate is a youth or adult, we recommend being part of our catechumenate process. The catechumenate is:
a time of preparation and discernment

a time of learning about the basic elements of the Christian faith
The catechumenate is for youth and adults desiring to be baptized as well as youth and adults who are preparing for confirmation. For more information, contact our
priest
.
---