Lent at Grace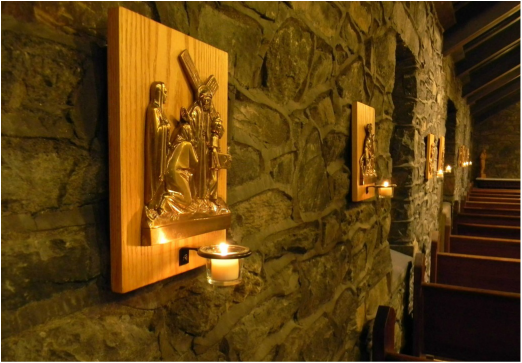 When most people think of Lent, they think about giving something up. It's not so much about giving something up as it is about reflecting on our relationship with God and seeking to know Christ better.

Giving up something for Lent is more about letting go of things which distract us from God or perhaps giving up something which is not physically, emotionally or spiritually healthy. But if you give something up, it's important to replace what you give up with something else - something more healthy and helpful which will draw you closer to God.

In this way, Lent becomes a quiet time of spiritual cleansing and renewal. It's good for the soul and prepares us for Holy Week and Easter.

Lent lasts 40 days, not counting Sundays. Sundays are not Sundays "of Lent," they are Sundays "in Lent." Sundays are always the celebration of the resurrection and so stand apart from the Lenten season.
Worship at Grace
Worship at Grace takes on a quieter and more contemplative tone. We recognize in Lent that we are limited human beings and we have fallen short of God's ideals for us. We examine our lives and come to terms with our failings in order to confess them and ask God's forgiveness and healing for them.
Penitence isn't about beating yourself up!
It's about being
honest and real about where we fall short
of the glory of God so that we can humbly seek God's healing grace.
It is about the healing and wholeness God desires for us
.
Lent begins with Ash Wednesday, where we face our own mortality and receive the mark of the cross in palm ashes on our foreheads to remember we are dust and to dust we shall return.
The First Sunday in Lent begins with the
Great Litany
chanted in procession. This ancient prayer dates from the 4th century but was brought into its current form in England by Archbishop of Canterbury Thomas Cranmer in 1544. Each Sunday thereafter, our worship begins with the Penitential Order. We open with confession as a way to focus on our need of God.
The Sacrament of
Reconciliation of a Penitent
is offered throughout Lent by appointment with the priest. Commonly known as "private confession," it is a helpful sacrament in clearing the "spiritual debris" of our lives which gets in the way of fully knowing God's grace.
Reconciliation is always confidential
and can be arranged by
emailing our priest
.
Fasting, Prayer and Almsgiving
The traditional practices of Lent are fasting, prayer and almsgiving. Fasting can take many forms - it is not necessarily about giving up just food. Fasting from distractions, electronic media, the temptation to overwork, television - all can be opportunities to fill that time with prayer and the study of scripture. Traditionally, the money saved from fasting from meals was given to those in need (almsgiving). Our Lenten Offering is directed this year to the
Episcopal Relief and Development Fund's Syrian Crisis Response Fund.