Music at Grace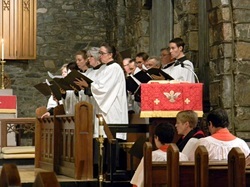 In the rich tradition of Anglicanism, Grace is a congregation which values great music in worship. From our Sunday Eucharist services to Choral Evensong, Grace finds ways to elevate the spirit through excellence in music.
Our choir is under the direction of
David Gunning
and rehearses on
Tuesday evenings at 7:00PM
-
new members are always welcome!
For more information on the choir, visit the
Grace Choir blog
.
---
Concerts at Grace
Grace is a lovely venue for many kinds of music and performing arts. Grace has hosted the Russian vocal group Lyra, Stefan Andre Waligur, and local organ concerts.
Service of Nine Lessons and Carols
Grace presents the Service of Nine Lessons and Carols twice during the Advent/Christmas season. This service is filled with music and Scripture readings for the season.