We extend a special welcome ...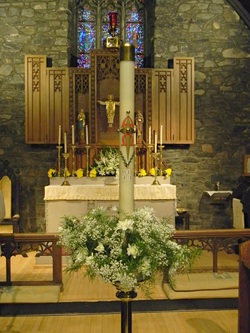 to those who are single, married, divorced, partnered, LGBT, filthy rich, dirt poor, or struggle to speak English. We extend a special welcome to those who are crying newborns, thin as a rake or could afford to lose a few pounds.
We welcome you if you can sing like Pavarotti or can't carry a tune in a stainless steel bucket. You're welcome here if you're 'just browsing,' just woke up or just got out of prison. We don't care if you're more Christian than the Archbishop of Canterbury or haven't been in church since little Jack's baptism or Uncle Fred's funeral.
We extend a special welcome to those who are over 60 but not grown up yet, and to teenagers who are growing up far too fast. We welcome soccer moms and football dads, starving artists, tree-huggers, latte-sippers, vegetarians and junk food eaters. We welcome those who are addicted – whether in recovery or not. We welcome you if you're having problems, you're down in the dumps, or are suffering in body, mind or spirit. We extend an especially warm welcome to those who don't like 'organized religion' (we've been there too!).
If you blew all your money on the horses, you're welcome here. We offer a welcome to those who think the earth is flat, work too hard, don't work or can't work, can't spell, or because grandma is in town and wanted to go to church.
We welcome those who are inked, pierced or both. We offer a special welcome to those who could use a prayer right now, had religion shoved down their throat as a kid, or got lost in the Brunswick traffic circle and ended up here by mistake. We welcome tourists and locals, seekers and doubters, bleeding hearts and hardened ones … and
you
!
Adopted by the Vestry of Grace Episcopal Church
as a statement of inclusivity and welcome on August 21, 2013
Grace Episcopal Church is a welcoming and affirming congregation
in the
Diocese of Maryland
.
---