Holy Matrimony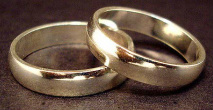 Holy Matrimony in the Episcopal Church is considered a sacrament - an outward and visible sign of an inward and spiritual grace. As such we take very seriously the responsibility for supporting a couple who wish to be married in the Church.
The Episcopal Church requires that one member of the couple be a baptized Christian and that the couple receive premarital counseling. This generally
involves 4-6 sessions with the priest. Premarital counseling is intended to help couples explore their relationship within the context of Christian marriage and to discuss any areas of concern with the priest. Persons who are divorced may remarry in the Episcopal Church, but special attention will be given during premarital counseling regarding the obligations to any children or family members from a previous marriage.
The wedding ceremony is
conducted according to the Book of Common Prayer. Because marriage is a sacrament and sacraments are public, weddings are public events in the church (receptions are invitation only). We encourage the congregation to come for the ceremony to support the couple being wed.
If you are interested in being married at Grace, please contact the priest.
---