Worship at Grace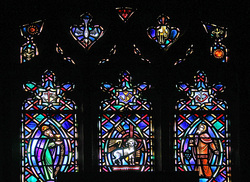 High Altar window
The center of our worship at Grace is the Real Presence of Christ in the Eucharist which we celebrate every
Sunday at 10:00AM
.
Healing Vespers
Service with Anointing is held from 6:15PM - 6:45PM
on
Wednesdays.
This short service is a quiet, contemplative form of Evening Prayer focused on healing and we offer the sacrament of anointing during the service.
For MARC Commuters
: the service is scheduled around the arrival of trains 875 (5:55PM) & 877 (6:05PM).
Grace is 2 blocks north and 2 blocks east of the MARC Station
.
Special worship services are held throughout the year, including Ash Wednesday, Palm Sunday, Maundy Thursday, Good Friday, Easter, and Christmas Eve.
---
Frequently Asked Questions about Worship
Choir leading Evensong
What is the general style of worship in an Episcopal church?
Worship in the Episcopal Church is structured according to the forms found in the Book of Common Prayer. But don't think "structured" means "stuffy!" The forms in the Book of Common Prayer (which is sometimes referred to as the "BCP") provide a framework for our worship which helps everyone participate.

Why do you have more than one worship book?
In each pew, you'll find a book rack with two books: The Book of Common Prayer and the 1982 Hymnal. The BCP has a cross on the cover and the Hymnal has a plain cover. If it's spoken, it's in the Book of Common Prayer; if it's sung, it's in the Hymnal. Fitting it all in one book makes the books large and unwieldy - so we have two.

---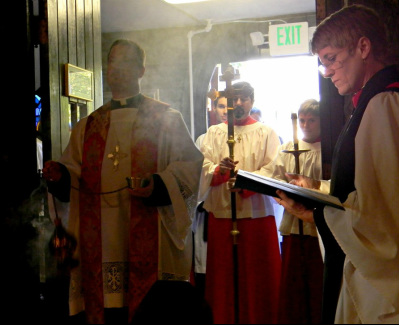 Can I take Communion in the Episcopal Church?
This is one of the most common questions we get. The Episcopal Church recognizes baptism as the sign of membership in the Body of Christ. All baptized Christians, regardless of where they were baptized, who receive Communion in their own tradition are invited to receive the Sacrament at this altar.
But what if I'm not baptized?
Those who are not baptized or who do not wish to receive Communion may come forward for a blessing from the priest and signify this by crossing your arms across your chest. If you desire to be baptized, please speak with the priest after the worship service.
Still have questions? Feel free to ask our priest,
Anjel Scarborough+
.