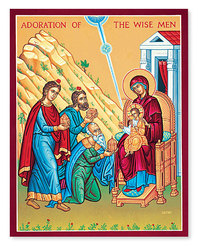 The Feast of Epiphany gives us a moment to pause and look both forward and back. As we look back, it's fitting to ask ourselves, "What do we know about the Christmas story?" Now, if you're reaction to that question is, "You'll shoot your eye out, kid!" that's not the Christmas story I'm talking about. It would be more accurate to say, "What do we know about the Christmas stories?" because there are two distinctly different narratives in Luke and Matthew.

In truth, we are most familiar with Luke as he gives us a much more elaborate telling. We begin with Zechariah learning that his barren wife Elizabeth is going to have a baby. He's so surprised he's struck dumb and cannot speak. Then the angel Gabriel from heaven came, and tells Mary she'll be having a baby and drops the dime on the whole Elizabeth being pregnant thing. Mary goes to see Elizabeth whose baby leaps in her womb and exclaims "My soul doth magnify the Lord and my spirit hath rejoiced in God my savior" etc., etc. Then Mary returns to Nazareth and there's this whole botched government census that sends them to Bethlehem where there's no room at the inn. Mary gives birth in a barn and lays Jesus in the feeding trough. Then the angels we have heard on high come singing sweetly through the night to some shepherds who go to see this wondrous sight. And Mary keeps all these things and ponders them in her heart.

Luke is telling a story for a largely Gentile audience and fills his narrative with all kinds of heartwarming familial encounters. If Luke is the Leave It To Beaver kind of story, Matthew is more like Dark Shadows. Matthew's telling isn't a heartwarming story at all. Matthew crafts his narrative for a dominantly Jewish audience and is concerned with convincing them of why Jesus is the fulfillment of Jewish Messianic prophecy. His story is much more spartan, more dark and even more sinister. After giving us the genealogy of Jesus and his Davidic heritage, we hear that Joseph learns about Mary's pregnancy and vows to divorce her. Now angels in Matthew's story communicate not by showing up in fields like in Luke, but in dreams – and especially to Joseph who, like his ancestor in Genesis, interprets his dreams. Joseph sees an angel in a dream who tells him not to be afraid and to take Mary as his wife, and so he does. Then Jesus is born and wise men come from the east inquiring of Herod about a new king. They are directed to Bethlehem by the religious leaders where they find Jesus at home with his mother. They give their gifts and, again in dreams, receive an angelic message not to return to Herod but to leave by another way. Herod, in turn, finds out he's been duped and orders the execution of all children under the age of two in Bethlehem. Once again, angels warn Joseph to take Mary and the child and flee to Egypt to escape. In the first two chapters, Matthew tells us that Jesus fulfills prophecies from Micah, Hosea, Isaiah, and Jeremiah – all to make the case to his Jewish audience – but it is a much darker story with lots of fear, violence and exile.

So now it's time for a pop quiz: How many wise men were there? Was it A) Zero, because if they really were "wise" they would have brought more practical gifts like casseroles and diapers; B) Three, because we all know that from the "rubber cigar" carol; C) 42, because that is the answer to life, the universe and everything; or D) we have no clue! OK … I know I planted the "rubber cigar" carol in your heads, but the answer isn't three. There were three gifts but we can't assume three people brought them. And while both zero and 42 are amusing answers, the answer really is D … we don't know. Matthew just says "wise men" came from the east. We really don't even know if they were exclusively men. The word magoi in Greek is the plural of magos which is a masculine noun; however, just because a noun is masculine does not imply that the subjects being spoken of were exclusively male. This word "magoi" gets Anglicized into "magi" in some translations, from which we get the words "magic" and "magician." This word does not mean "kings" in any sense (even though you still have the "rubber cigar" carol running through your head). Our Western ideal of casting them as "kings" comes from a much later tradition and, I daresay, one which trended towards trying to romanticize the Matthean text – perhaps to soften the darkness of the story. This word "magoi" which gets translated "wise men" really carries a more negative connotation to a Jewish hearer of this story. Magi were astrologers and fortune tellers – gypsies, tramps and thieves to borrow Cher's old song. They were foreigners and of a shady and questionable kind. They engaged in soothsaying, which was specifically prohibited by Jewish law. The other references to "magos" in the New Testament comes from the Book of Acts and they are not flattering at all (Peter calls one of them a "child of the devil"). The shady foreigners bring gifts of gold, frankincense and myrrh – very expensive gifts and, one might wonder, by what ill-gotten gains had these soothsayers acquired such wealth?

To me, the magi and their gifts appear tell us something of what it means to bring our gifts to the Christ child. It's tempting to concentrate on the expensive and flashy gifts of gold, frankincense and myrrh as representative of bringing the best of ourselves to lay before the Christ child. But in my experience, this doesn't tell the whole story. Our human temptation is to polish the apple and bring the best of ourselves – all the respectable parts – to lay before our Lord. We'd really rather not lay before him the messy bits, would we? Like Adam and Eve, we hide in the garden and hope that God doesn't figure out we're naked. Each of us has things we'd really rather not lay before the Christ child – messy and ugly bits of our lives. We'd rather not give Christ our brokenness, our illness, our impatience, our ingratitude, our weakness, our addictions, our dishonesty, our sin. No, we'd rather hold onto that and try to hide it – regardless of how futile hiding it is!

But let's remember the Magi. They brought themselves – even though their ways were anathema to the Jews and looked down upon. They didn't just bring spiffy gifts, they brought themselves and all their messiness – all the stuff a pious Jew would have rejected. And this is the mystery of the incarnational gospel: that God doesn't just want what we think is our best, God wants all the messy bits too! In fact, as Dame Julian of Norwich rightly pointed out, God wants to love us completely, sins and all, because without our sins God would not have had to become one of us.

But this is scary stuff. We are often duped into believing in the God who's just waiting there to smite us – to annihilate us for our shortcomings – and so we play a game of trying to hide them. It's a futile game. The writer of the Letter to the Hebrews said, "It is a fearful thing to fall into the hands of the living God." We are afraid to put our whole self out there and give it all over. The irony is, that when life knocks the supports out from underneath us and we actually do fall into the hands of the living God, when we land we don't find harsh punishment at all but instead we find grace, peace and mercy (which is about the time we slap ourselves in the forehead and wonder why we were so fearful in the first place!).

If anything, Matthew's narrative of shady foreigners with gifts against a backdrop of fear, death and exile is a reminder to us that God in Christ is not only with us in the messy fearful places but invites us all to come to him regardless of who or what we are. We are invited right where we are, just as we are, spiffy gifts and total train wrecks that we are. We don't have to get our act together to come to the Christ child – we just need to come! We are not to hold back anything – Christ wants all of us, even the messy bits! In the words of Anglo-Catholic poet Christina Rosetti's carol "In the Bleak Midwinter,"

What can I give him, poor as I am? If I were a shepherd, I would bring a lamb. If I were a wise man, I would do my part. Yet what I can I give him, give my heart.